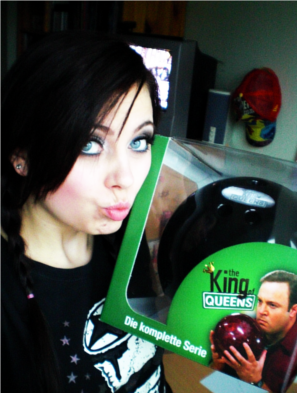 YEAAAAAAH!on the 26th. January was my 20th. Birthday! it was so cute!<3
i was in wok buuut i get so cute presents!<3 THANK YOU ALL! of course thank you so much for the Birthday cards,i love getting cards!
& i get the King of Queens Bowling Season 1-9. Collection! WUAH! i'm in LOVE!<3


and tooooooday
al_anthos
dear have her birthday! SO!
HAPPY BIRTHDAY!
i hope my present will arrive you soon!<3


aaaand yesterday Yuyu-chan talked to me she wanted that i join her One Piece Cosplay group!
i'm so hyper!XDD waaah i would be so happy if i could!!
on september...at the Connichi! is anybody going their too?
on friday we want to Cosplay the Baroque-firm! Me is Miss Goldenweek!XD
some other friends will come too! ahhh i'm so excited! and on saturday we wanted to make the Strawhatcrew, and i'm Chopper!X3 on my sidebar you can see my new Chopper photo! haha it was a exercise...i think i don't make the make up..it's too much for chopper!X'D
and now...bye bye <3
have a beautiful day!
♥feeling:

peaceful
♥vibration: One Piece ~ We are!